Do you have the Cisco AnyConnect Secure Mobility Client loaded on your CUSD Device?
Here's How to Check:
From the Desktop location (main home screen),
locate and launch the application by clicking the
Start button on the desktop taskbar(bottom left hand corner of screen) and select the appropriate program –
Cisco AnyConnect Secure Mobility Client.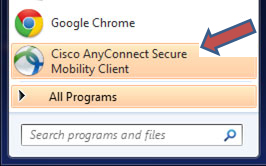 If you do not see the Cisco AnyConnect Secure Mobile Client in your list of programs, please contact the RADAR staff at 234-5500, while on a CUSD campus, to have it installed on your CUSD-owned device.
These instructions will assist you with connecting to VPN from your system once it is installed:
VPN Use:
Utilizing VPN from District devices will allow access to all District resources they can access from the device while on site.
Accessing VPN from personal devices will only allow access to "Web Based" resources such as:
ABI
CapoNet Website
Outlook Web Access
Genesea
M & O Website
myCUSD
Sharepoint
Special ED
Synergy
The new VPN client can be installed on personally owned systems by visiting this site: https://cusdvpn.capousd.org and following the instructions after log in.